Science & Technology
Monday, 03 October 2016 10:34
Nguyen Hong Anh, deputy head of the Hanoi Plant Protection Sub-department
Wednesday, 28 September 2016 09:40
Vietnam has been ranked 89th among 193 surveyed countries in the UN e-government development index (EGDI).
Thursday, 22 September 2016 10:27
Deputy Prime Minister Vuong Dinh Hue affirmed that a start-up ecosystem seminar is an opportunity for the Vietnamese Government and Ha Noi to learn from Israel, a successful start-up nation.
Wednesday, 14 September 2016 09:51
VietNamNet Bridge - Vietnam earned another four awards in the latest round of the Partnerships for Enhanced Engagement in Research (PEER), a U.S. Government (USG) program to fund scientific research in developing countries, bringing the total number of PEER awards won by Vietnamese scientists to 12.
Monday, 05 September 2016 10:23
The city authority is expected to put 10 free-Wi-Fi hotspots in the first stage along the pedestrian plazas around Hoan Kiem Lake and adjacent areas on National Day, September 2.
Wednesday, 24 August 2016 10:05
The world's second largest population of the critically endangered Delacour's langur was recently discovered by Fauna & Flora International (FFI), giving fresh hope for one of the planet's rarest species.
Wednesday, 17 August 2016 14:42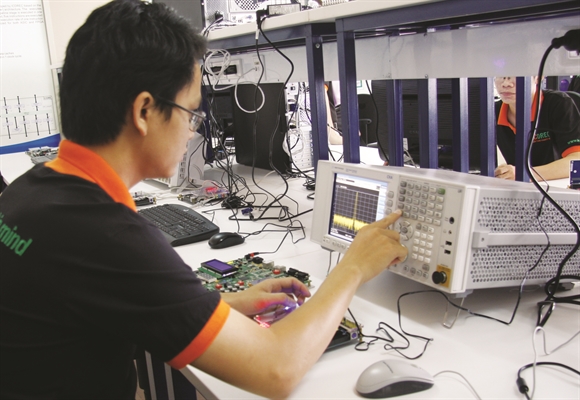 Microchips with RFID (radio frequency identification) have the potential to become a key economic sector.
Thursday, 11 August 2016 09:35
Vietnamese gamers are excited as Pokemon Go became officially available in Vietnam on August 6. However, they have voiced complaints about the unfair play because of the use of unlicensed software.
Wednesday, 10 August 2016 14:36
Ensuring cyber and information security is an urgent task as the cyber environment is increasingly exploited for such bad activities as swindling or inciting sabotage schemes against the Party and the State, said Deputy Prime Truong Hoa Binh.
Monday, 08 August 2016 09:45
The recent hacking accident at national flag carrier Vietnam Airlines rang the alarm for the local banking system, as many of its members have been keeping expenditure to modernise their Core Banking system to a minimum.
Wednesday, 03 August 2016 11:11
FPT Corporation has been selected as the main investor of Myanmars national financial switching system.
Monday, 01 August 2016 11:24
The Ministry of Information and Communications on July 30 requested offices, organisations and businesses nationwide promptly take measures to ensure their information security following hackers' attacks at Vietnam's airports.
Wednesday, 27 July 2016 08:45
Google has announced it offered free access for large and small-scale businesses in Vietnam to Google Apps for Work by the end of June this year, according to ICT news.
Page 9 of 9